Jurassic World: Dominion Dominates Fandom Wikis - The Loop
Play Sound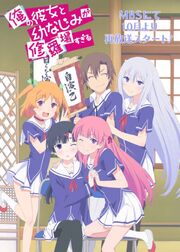 Ore no Kanojo to Osananajimi ga Shuraba Sugiru (俺の彼女と幼なじみが修羅場すぎる, lit. My Girlfriend and Childhood Friend Fight Too Much), also known as Oreshura (俺修羅) for short, is the anime adaptation of the Japanese light novel series of the same name. It is produced by A-1 Pictures and directed by Kanta Kamei. The anime aired in Japan from January 6 to March 31, 2013. The anime was simulcast by Crunchyroll, subtitled in English. The opening theme is "Girlish Lover" by Chinatsu Akasaki, Yukari Tamura, Hisako Kanemoto and Ai Kayano, and the ending theme is "W:Wonder tale" by Yukari Tamura.
Synopsis
Skeptic of love. Having no intention to delve into romance, Eita Kidou devotes his entire high school life to his studies in order to become a doctor.
It did not take long for the beautiful and popular Masuzu Natsukawa to notice Eita's apathy. Tired of being the object of people's affection, she asks him to pretend to be her boyfriend, as she too feels disgusted at the notion of love. Eita, however, refuses—yet Masuzu has one trick left up her sleeve: Eita's journal and threatening to post the embarrassing content online if he does not comply.
Now entangled in a fake romance with the most desired girl at school, Eita's life is turned upside down. Whether envied by his peers or receiving a confession, he must cope with his newfound relationship and all the troubles that come along with it.
List of Episodes
No.
Title
Original Air Date
1
"The Start of My High School Life is a Battleground"
"Kōkō Seikatsu no Sutāto wa Shuraba" (高校生活のスタートは修羅場)
January 6, 2013
2
"Starting a New Club is a Battleground"
"Atarashii Bu o Kessei Shite Shuraba" (新しい部を結成して修羅場)
January 13, 2013
3
"A Battleground Over the Tears of a Childhood Friend"
"Osananajimi no Namida de Shuraba" (幼なじみの涙で修羅場)
January 20, 2013
4
"Fighting over a Guy is a Battleground"
"Otoko no Tatakai wa Shuraba" (男の戦いは修羅場)
January 27, 2013
5
"The Truth of the Love Letter is a Battleground"
"Rabu Retā no Shinsō wa Shuraba" (ラブレターの真相は修羅場)
February 3, 2013
6
"A Battlefield Where the Gray World is Cut to Shreds"
"Haiiro no Sekai o Kirisaku Shuraba" (灰色の世界を切り裂く修羅場)
February 10, 2013
7
"A Battleground Despite Summer Classes "
"Kaki Kōshū na no ni Shuraba" (夏期講習なのに修羅場)
February 17, 2013
8
"Movie Theater Double Dates are a Battlefield"
"Eigakan W Dēto de Shuraba" (映画館Wデートで修羅場)
February 24, 2013
9
"Promises That Come Back are a Battlefield" 
"Yomigaeru Yakusoku wa Shuraba" (よみがえる約束は修羅場)
March 3, 2013
10
"Summer Training Camp Meetings are a Battlefield "
"Natsu Gasshuku no Kaigi de Shuraba" (夏合宿の会議で修羅場)
March 10, 2013
11
"The Excitement The Night Before a Trip Is A Battlefield "
"Gasshuku Zen'ya no Wakuwaku wa Shuraba" (合宿前夜のワクワクは修羅場)
March 17, 2013
12
"The Result Following A Scheme Is A Battlefield "
"Senryaku no Ketsumatsu wa Shuraba" (戦略の結末は修羅場)
March 24, 2013
13
"A Battlefield That Leads to a New World "
"Atarashī Sekai e no Shuraba" (新しい世界への修羅場)
March 31, 2013
List Volume
Box